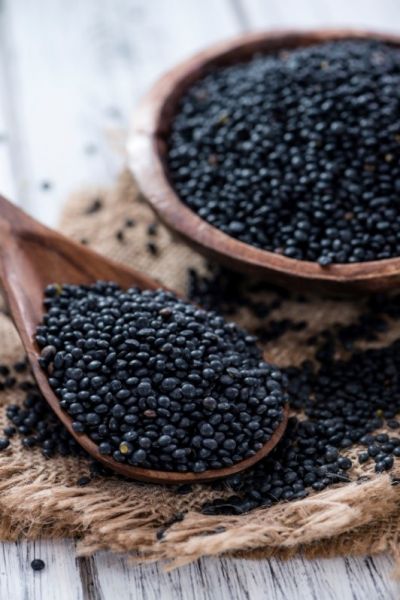 Black lentil and Salsa Verde Salad
Black Lentil And Salsa Verde Salad
What Could Be Better Than Sitting Out In The Garden, In The Evening Sun Enjoying A Delicious, Healthy And Home Cooked Meal? This recipe is high in protein and therefore great for metabolic balance and energy levels!

Ingredients
100g dried black lentils or Puy lentils
1 tsp rice vinegar
20g sorrel herb
10g mint
10g coriander
65 mls olive oil
Finely grated zest and juice of 1 lime
5 or 10 baby tomatoes – chopped
250g asparagus
Sea salt
Optional dressing (for relaxed or maintenance phase)
120 mls goats milk yogurt or coconut yogurt
10 g mint leaves
Instructions
Cook the lentils according to the packet instructions. When cooked add the rice vinegar and stir. Set aside.
Next make the salsa verde. Put the sorrel, mint, coriander, oil and lime juice into a food processor or blender and pulse until you get a chunky texture. Or you can chop and blend by hand.
Add the chopped tomatoes and combine these together and set aside.
Grill the asparagus (you may need a little oil to brush over) and heat until soft and striped with a dark charcoal line (if you prefer you can just steam the asparagus) but the grilling gives a lovely smoky flavour.)
To serve, put the lentils on a serving plate and season with sea salt; pile on the salsa verde-tomato mixture and add the asparagus on top with a final sprinkle of lime zest. If you want to add the dressing, then mix those ingredients together and serve in a separate bowl.