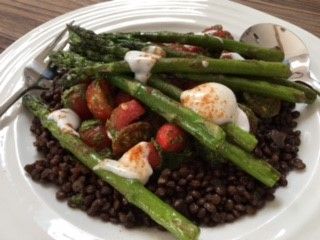 Beluga Lentil and Asparagus Salad
Beluga Lentil And Asparagus Salad
Lentils are a good source of protein, low in calories and high in nutrition. Try this amazing recipe with asparagus, but be quick, asparagus season is almost over!

Ingredients
100g dried beluga lentils or puy lentils (if you buy tinned use 200g)
1 tsp rice wine vinegar
10 g mint
10g coriander
65mls olive oil
Grated zest and juice of 1 lime
200g baby tomatoes
Sesame oil
250g fresh asparagus
Yogurt dressing:
120 mls goats milk yogurt or coconut yogurt
Fresh mint
¼ tsp paprika
Instructions
Cook the lentils if using dried.
Add the rice wine vinegar and stir – set aside
In a food processor or blender, add the mint, coriander, olive oil, and lime juice and blend until you get a chunky texture – this is your salsa verde (green sauce). Stir in chopped tomatoes.
Add a splash of sesame oil to your griddle and grill the asparagus over a high heat until cooked.
Put the lentils on a serving plate and season, then pile the salsa verde and tomatoes with the cooked asparagus on top with a garnish of lime zest. Drizzle a little of your spicy yogurt mix and serve.