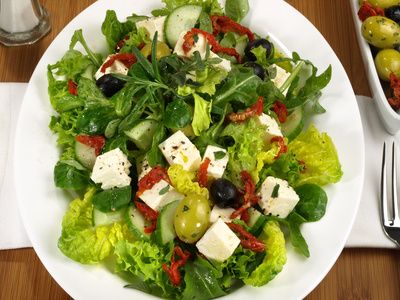 Warm artichoke and feta salad with lemon dressing
Warm artichoke and feta salad with lemon dressing
Globe artichokes have been traditionally used to support liver function. They increase bile flow from the gall bladder to the liver aiding in the digestion of fats and are also a good source of soluble fibre. If you are short of time, you could substitute fresh artichokes with those marinated in olive oil.

Ingredients
Lemon dressing:
Juice and zest of 1 lemon
1 tbsp honey
3tbsp flaxseed oil or an omega blended oil
2tbsp extra virgin olive oil
Freshly ground black pepper
Ingredients
Juice of 2 lemons
12 baby artichokes or artichoke hearts marinated in olive oil
400mls vegetable stock
250g rocket leaves or mixed bitter greens watercress, argula, baby spinach
Handful of chopped fresh basil leaves
200g cherry tomatoes halved
12 black olives halved
200g feta cheese, cut into chunks
Handful of broccoli sprouts or other sprouted seeds eg alflafla
Instructions
If using raw artichokes, fill a large bowl with water and add the lemon juice. Trim the stems of the artichokes and peel then to remove the coarse outer touch parts. Trim the tops of the outer coarse leaves.
Scoop out the choke (if present) with a teaspoon or melon baller.
Slice the artichokes in half and place them in the acidulated water.
Place the stock in a pan and bring to the boil, add the artichokes and simmer covered for 15 minutes or until they are tender. Leave in the pan to keep warm.
Whisk all the dressing ingredients together.
Place the rocket leaves and basil on a platter and scatter over the cherry tomatoes, feta cheese and sprouts. Spoon out the artichokes from the pan and add to the salad.
Drizzle with the lemon dressing to serve.