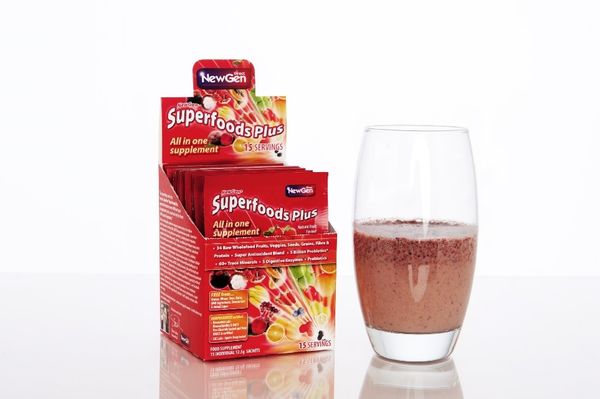 Our proprietary world-class formula, NewGen Superfoods Plus, replaces the need for several different types of food supplements and it is made with only the finest 100% natural ingredients.
NewGen Superfoods Plus is in a league of its own, providing 34 raw wholefood fruits, vegetables, seeds, grains, fibre & protein, combined with over 60 plant derived trace minerals, antioxidant fruit extracts, digestive enzymes and more than 5 billion probiotics* per serving.
Simply mix one sachet of NewGen Superfoods Plus powder with 4 fl oz (118 ml) or more of water, juice, unsweetened rice/almond milk or mix into a smoothie. This is a premium 100% natural product and we do not use any mixing carriers or additives, so please use a shaker or blender. Alternatively, mix with food, such as natural unsweetened yoghurt.
BENEFITS…
34 Raw Wholefood Ingredients
60+ Trace Minerals
Super Antioxidant Blend
Over 5 Billion Probiotics*
Prebiotics, Including FOS
5 Digestive enzymes
Less Calories than an Apple
100% Natural Ingredients
Featuring our Raw Certified Organic Brown Rice Protein
Independently Tested & Certified
Manufactured to GMP & GLP Standards
Manufactured in a certified Organic Facility
91.83% of this Formula is made from Raw Certified Organic Wholefoods.