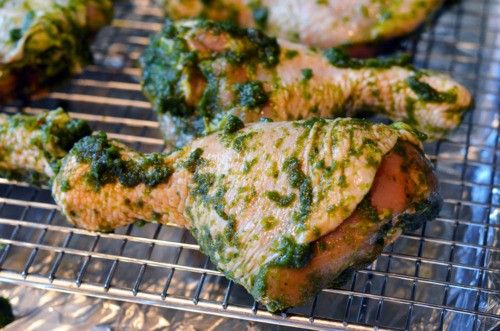 The sun has finally made an appearence, why not get the BBQ out and cook up this delicious dish!
Serves 4
    1 medium onion, peeled and coarsely chopped
    1 handful coriander leaves and stems
    1 ½ handfuls basil leaves
    ½ handful mint leaves
    4 tablespoons of fish sauce
    3 peeled garlic cloves
    zest of 1 lime
    plenty ground black pepper
    2 tablespoons of apple juice (or 1 teaspoon of maple syrup)
    Kosher salt
    3 pounds of chicken drumsticks or thighs
My Sister's Phenomenal Grilled Green Chicken by Michelle Tam – Basically blend all the ingredients together (apart from the chicken) and create a green paste. Put this in a bag or pot and place the chicken inside and leave it for at least one hour or overnight to marinate.  Next, get out the BBQ or grill the drumsticks for 30-45 minutes depending on the size and enjoy a delicious and different BBQ sauce.